Hospitals are subject to strict governance and regulations. Audits and Inspection could be impacted by pest presence in your facility, so it's critically important that there is a zero-tolerance for pest & hygiene activity.
The hospitals industry is subject to the same pests as many other industries but the consequences of the smallest infestation are greater than most. Even in the toughest environments pests are determined to find shelter and food.
Pests & Hygiene can affect the hospitals through damage of buildings and product as well as cross contamination. The impact of Pests could be wide-ranging:
Loss of trust & serious health hazards
Medical complication & pest related infections
Contamination in pharmaceutical products
Costly damage to healthcare products
Revenue loss
Damage to your brand and reputation
You could be liable for claims for compensation
Possible legal action from public health authorities or regulatory bodies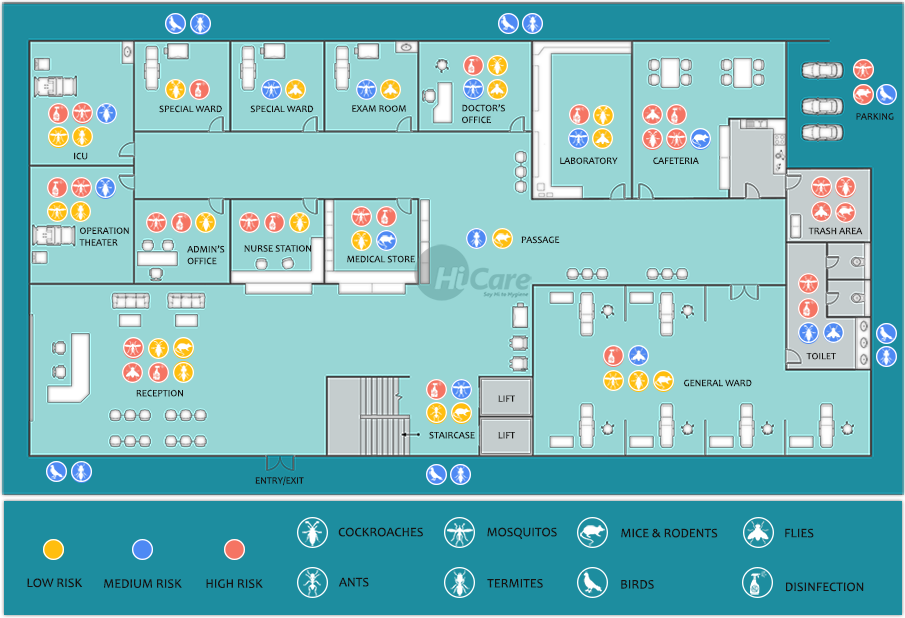 Click to enlarge
HiCare Services offers a range of 24/7 smart & digital pest control & Hygiene systems suitable for use in hospitals facilities. We tailor our pest control programmes to match the risk level of your premises allowing us to monitor, alert and eliminate pests.