Administration managers are often considered a jack of all trades, as they are responsible for maintaining the quality of a building / offices and ensuring the safety of employees, patrons, and other occupants on a daily basis—all while adhering to budgetary restraints. This often results in pest control efforts being placed toward the bottom of the to-do list, done on a shoestring budget, or even forgotten altogether. However, given the considerable consequences of an infestation, facility managers must be prepared to take action at the first sign of a pest problem.
In an office environment, for instance, there may be a large number of people in the building for extended periods of time, which compromises facility access. When developing a pest, cleaning & Hygiene management program, the schedules or office hours of occupants need to be taken into consideration. Even when offices are closed, there may be sensitive areas or areas with limited or no access, which can impact the type and success of pest services provided. It is important that these areas are identified and assessed to determine what risk exists if they are not serviced.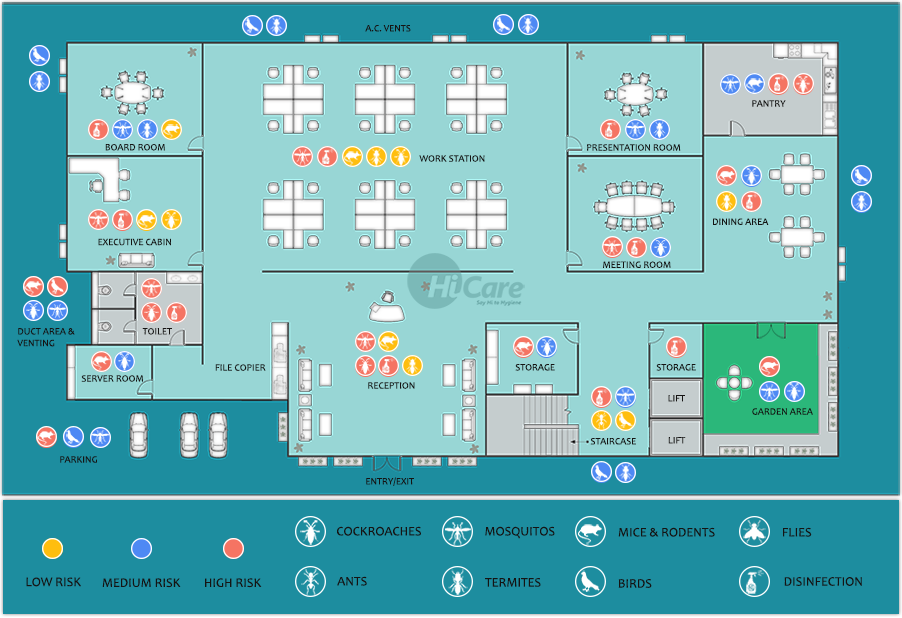 Click to enlarge
HiCare Services offers a range of 24/7 smart & digital pest control & Hygiene systems suitable for use in hospitals facilities. We tailor our pest control programmes to match the risk level of your premises allowing us to monitor, alert and eliminate pests.