One of the trickiest environmental challenges for housing managers is pest management - finding the best way to control unwanted invaders while minimizing the use of potentially toxic pesticides. Pests such as cockroaches, mice, rats and bed bugs can be particularly troublesome in multi-family housing.
Living with pests should not be the norm for anyone -- whether one lives in a single family home or multifamily housing.
HiCare services differ from traditional pest control:
We emphasizes eliminating nesting places as well as sources of food and water for pests.
It excludes pests from the home.
Multi-family housing society require a team effort involving residents, maintenance and pest management professionals.
In addition to lending properties a poor appearance and potentially causing physical damage, pests can cause health problems that could make living in a property uncomfortable, dangerous or even deadly. Certain kinds of insects, rodents and microbes can cause or spread vector-borne diseases, asthma and allergies, avian flu, and diseases due to microbial contamination, among other health problems.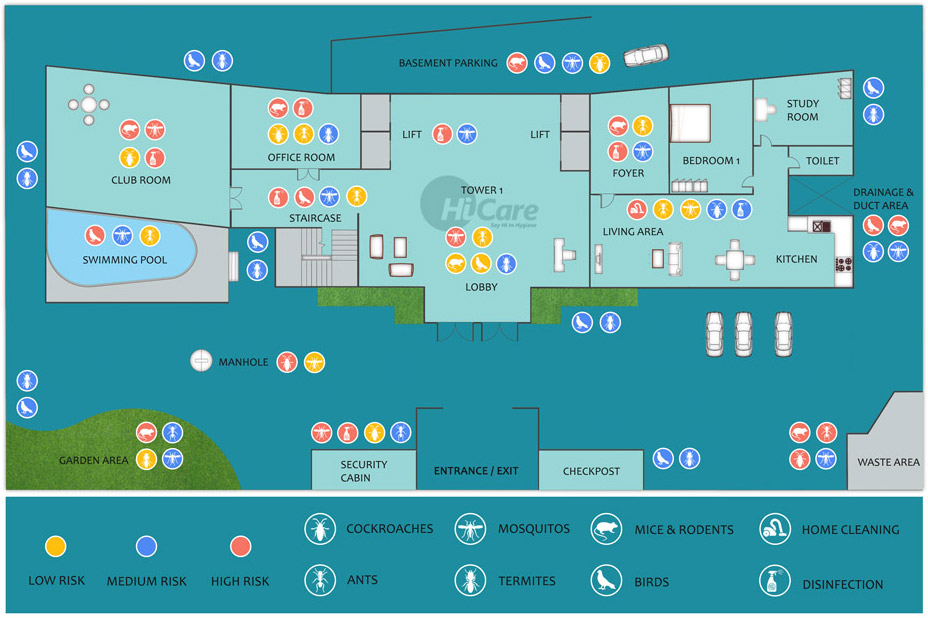 Click to enlarge
HiCare Services offers a range of 24/7 smart & digital pest control & Hygiene systems suitable for use in hospitals facilities. We tailor our pest control programmes to match the risk level of your premises allowing us to monitor, alert and eliminate pests.